WHO WE ARE
Everything we do at Svaneti Heliskiing comes from desire to live and explore our part of paradise. We are full of good times and know how to live and act in these wild mountains. Heliskiing safety is the first priority, and right after that - steep and deep skiing, a universe of routes, unlimited enjoyment and ultimate friendship.
We are Professional
Our mountain guides are certified by IFMGA and have more than 10 years of experience in a homeland region - Georgia, Svaneti.
We guarantee safety
Our pilots and guides know all the peculiarities of the terrain and take full control of your safety.
We are Local
Born and raised here we are your best partners to explore and discover the area. You'll get not only the professional tour support, but also the immersion into the culture of our nation, its history and traditions. We really know how to treat guests and how to make them happy. Together with unforgettable skiing experience you'll make new friends in Svaneti.
We are here for you
Customer care is excellent, doing our best to provide fantastic trip on the full volume. Our goal is your 100% satisfaction. We take care about all the parts of the trip – logistics, lodging, equipment, routes, schedules, safety, your experiences and your impressions.
We are the team, brought together by the mission to make happiness louder.
WHERE WE ARE
Incredible Terrain to suit all skiers/riders needs and abilities.
Big Mountains skiing with spectacular scenery.
Our base is located in Mestia, capital of Svaneti, western part of Georgia. Once you try it, Svaneti will become for you the synonym of pure powder, massive terrain, breathtaking views, fantastic hospitality and wild-wild-wild nature. We are lucky to operate in the Central Caucasus with its highest concentration of big peaks, glaciers, and very diverse terrain.
One more nice thing is a long daylight time during the season (08.30 till 18.00) – so you have more than enough time to enjoy the mountains.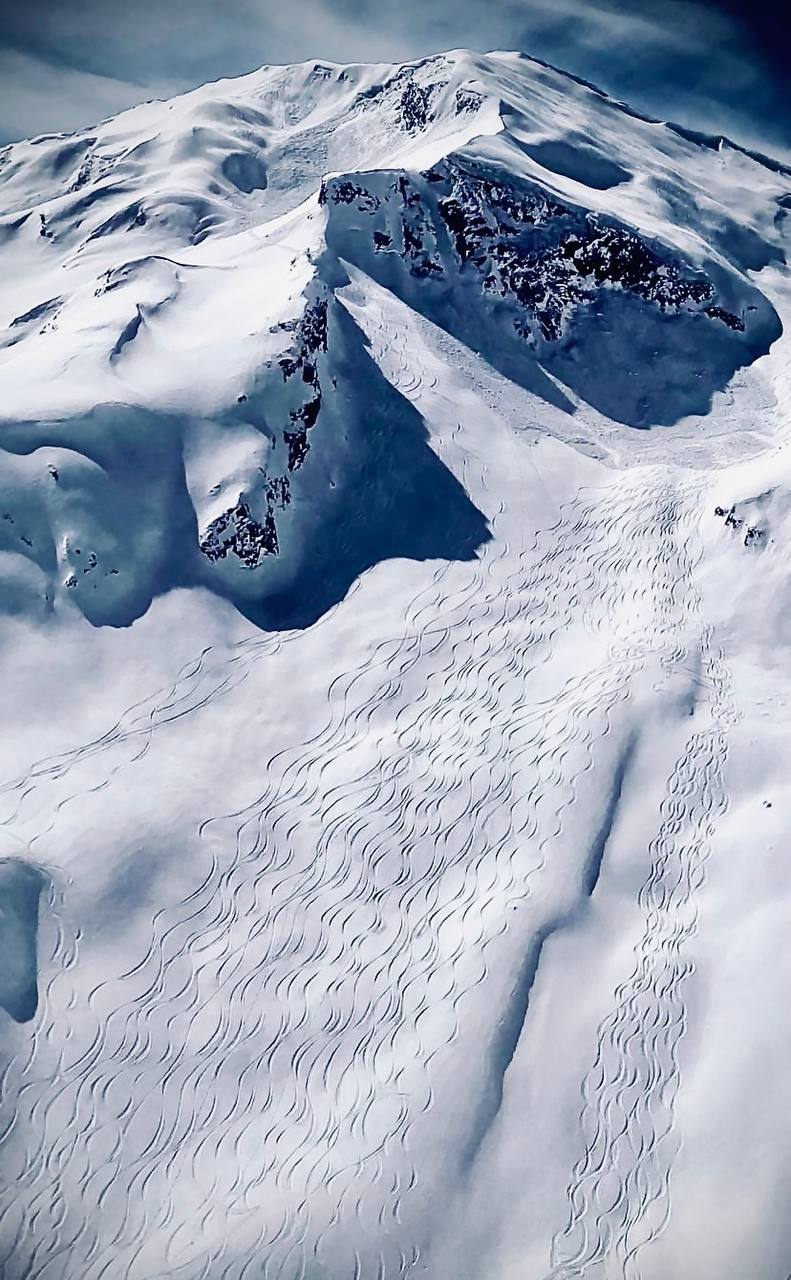 We meet you in one of the international airports (Tbilisi, Batumi or Kutaisi) and deliver you to Mestia, the capital of Svaneti. It's a really remote and very traditional region, where you can enjoy untouched powder as well as unbelievable hospitality. Read more on page "Terrain & Location".
One more nice thing is a long daylight time during the season (08.30 till 18.00) – so you have more than enough time to enjoy the mountains.
With helicopter you'll get to absolutely uninhabited and un-skied areas. 100% guarantee you'll be the one to make the first lines there. You will see the miracle of nature in all its beauty and only for yourself, which makes this experience so much special.
WHAT WE DO
World class heliskiing
Heli-skiing in Svaneti is an impression of a lifetime even for the experienced skiers. All the excitement and challenge you could imagine is here at your disposal, together with powder clouds of previously un-skied territories.
Enjoy a long tour in a small group of soulmates. Only 2 groups of 4 people for one AS350 B3 helicopter. This is our basics. Small groups for small helicopter: our footprints are fresh lines. The season lasts from January to April. Choose your option on Heliskiing Tours & Pricing page.
Heli-assisted summiting is a key for opening new horizons. You can escape a long way to a basecamp with kilograms of equipment. This is relevant in Svaneti, where often neither roads nor lifts lead you to the start of summiting. For discussion of your ambitious trip contact us and we'll be glad to share our passion for the mountains with you.
For those who have a special day and want to make an outstanding event we are ready to offer our help as professional event managers with special opportunities. Wedding, dating, anniversary, engagement, movie shooting, aerial walking - we make it even better than you could imagine.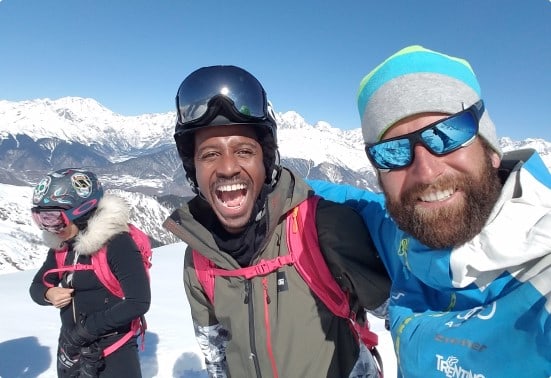 Fast transportation to Mestia, Svaneti from any Georgian international airport. Average flight time from Tbilisi is 1 hour 45 minutes, Batumi - 1h 15 minutes, Kutaisi - 45 minutes. Rescue operations and transportation are possible in limited cases. Contact us to arrange helicopter transportation
HELISKIING AT THE RIGHT PRICE
Get your unique impressions with heli-skiing in terra incognita of Svaneti.
We offer heli-skiing tours on the best helicopter in the industry with professional local IFMGA guides.
Price: from 2800 euro/hour
Note: our price is the best in the region 'cause we are local and aren't exposed to additional expenses (like helicopter transportation, staff transportation or accommodation, etc). !
Safety first. Always.
Our aim is to combine your full satisfaction with the trip with your absolute safety. We present it on several levels: individual, group, industrial; on different aspects: personal, technical, travel. We use modern equipment and we follow clear safety procedures in all aspects of our work.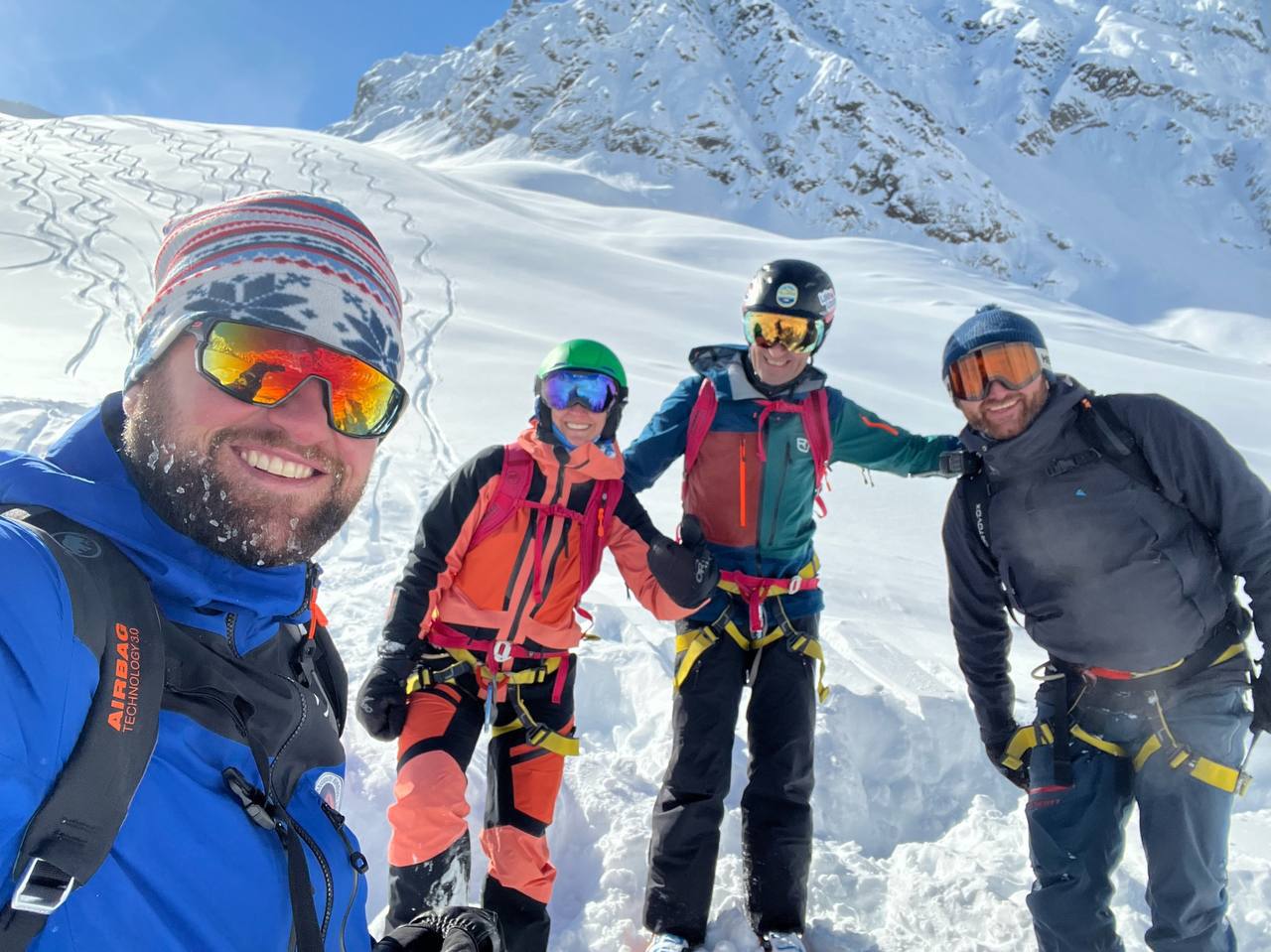 HOSPITALITY
Hosting guests for several years we know the best place to stay in. On the other side, as experienced travellers and skiers, we know what you need and how to add spice to your trip. Georgia is famous for its hospitality, but Svaneti is known for it even among Georgians. Every person who dared for a trip to the Svanetian mountains will be rewarded with new friends. For sure!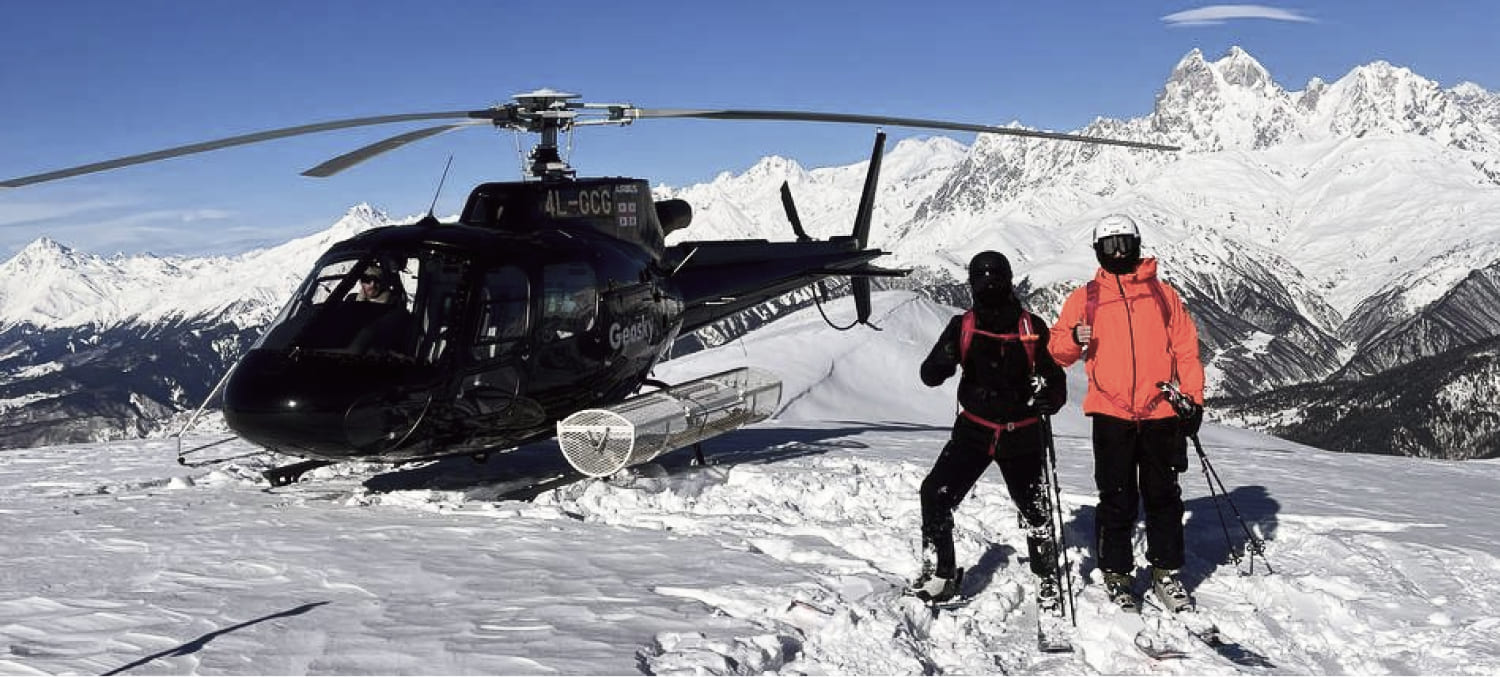 KNOWLEDGE
Exceptional knowledge of our region gives us a great advantage. We live in Svaneti and explore our mountains all the time. Terrain, snow, paths, entertainment, culture, etc. - we are ready to share it all with you!

Lara Paul
Professional athlete
Switzerland
Thanks to the great team we were able to get to know these beautiful mountains and ski some of the best snow we've ever skied! Misha is a great guide, super enthusiastic and fun, all while keeping the situation safe. We had a wonderful time on and off the mountain with everyone - thank you!

Humberto Cuesta
Skier and Runner
Catalonia

Thanks for letting us know your magnific sidecountry paradise.
Catalonia
Best guide ever! (About our Lead Guide)

Elżbieta Sabaturska
Skier
Poland

Professional and passionate, true mountain lovers, know about the Caucasus more than anyone else.
Francesco Peracchi
Snowboarder
Italy
Thanks for this amazing adventures..... Tatiana is super friendly and helps you for everythings.... Misha super guide for best line.... super terrain riding in a heliday with a beautifull snow.... beautiful landscape..... in case of down day fun is guaranteed..... svaneti heliski is a heli company and a adventures company for full enter in a svaneti culture.... i love svaneti i love this company ❤️
Fly to ski access, putting the mountains into perspective